Oban Open Top Bus Tour | City Sightseeing Glasgow
City Sightseeing Glasgow tour - 2 day ticket
Oban open-top bus tour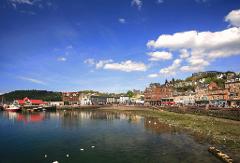 Duration:
80 MINUTES
£7.00
This tour has now ended for 2016 but will be back in 2017 with pre-season bookings available from end of January 2017. In the meantime we've provided some general tour information below.
The tour operates daily from late May until late September and has several departures daily from Oban Railway Station.
This tour is via a single-deck, open-top bus and from Oban, takes visitors across the Connel Bridge, offering them great views of the Falls of Lora and to the Isle of Mull beyond.

We also now stop at Dunstaffnage Castle so that passengers can visit these magnificent ruins as well as at Ganavan with its views over to The Isle of Kerrera and Donollie Castle as well as it's beautiful beaches and coastal walks.

On the return to Oban, passengers will also enjoy wonderful views of Oban Bay and McCaig's Tower which overlooks the bay and Oban itself.

A full English commentary is provided and the tour lasts approximately one hour and 20 minutes.

Your ticket is valid for one day and can be used as an all day pass on West Coast Motors local bus services. You can also get 10% off entrance to Dunstaffnage Castle on presentation of your tour ticket.


Book in two easy steps
Use the calendar below to select your preferred date. Clicking "Confirm Availability" will take you to our dedicated booking site. We look forward to seeing you soon!
Service Update Modal